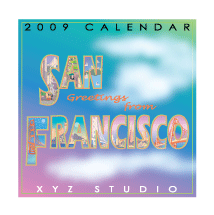 SFCA09/ 2009 San Francisco Calendar

Wirobound 6" x 6" Wall Calendar $11.00



NEW SAN FRANCISCO
2009 TWELVE MONTH CALENDAR
The calendar measures 6"x12" when opened to be hung on the wall using the drilled hole. It has a copper wiro-binding and is printed on a creamy white heavy cover stock 100% recycled paper.
The months include traditional holidays, moon phases and a mini copy of the prior and next months.
The calendar presents a collection of original illustrations by Mary McLyman at XYZ STUDIO. Mary combines her backpround in Architecture and experience as a Graphic Designer to create unique works of art. The much photographed icons of "The City" are given an impressionistic quality you may enjoy throughout the year.