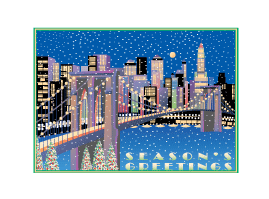 BRK/ Brooklyn Bridge and Skyline
$12.95 per box of 10 cards and envelopes
greeted:
Wishing You Happy Holidays



XYZ STUDIO designs a unique style of graphic cards. The imagery presents a contemporary style inspired by retro design.
FOR HOLIDAY
The New York City series offers iconic views of the city in an impressionistic but still quite detailed style. This group provides a non photographic option for you to send greetings and show off the beauty of your environment.